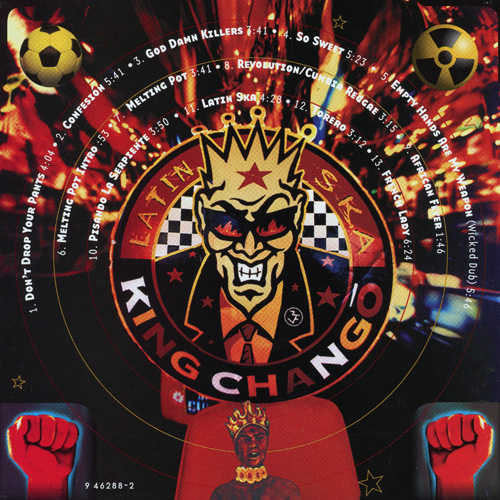 Fall '96 at my college's radio station. I was thumbing through the stacks when I came across this Warner Brothers promotional CD: Sosuco. It's three characters that mean 'to be continued' in Japanese. Its inner jacket has a king graphic way too similar to Toasters Dub 56 baldy icon to be unrelated. Obviously it was immediately pilfered and learned. Mid-winter, five months later, they are coming to Ithaca. No car or even license in those days, we boarded a local Greyhound bus, cruised down NY Route 5 & 20, lodged at a Holiday Inn (Mark Hamill on the TV movie), and crossed the block to the show!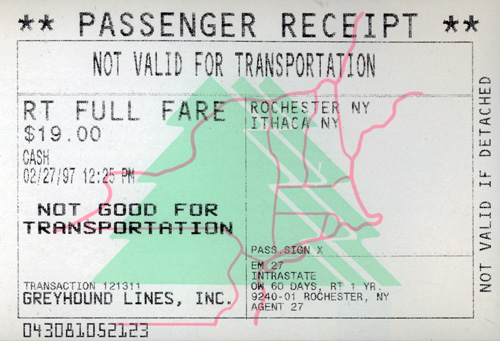 King Changó conquers the masses
as seen in Hoi Polloi! ska 'zine #4 JUNE 1997 issue, pages 32 - 34

Renissance man Andres "Blanquito Man" Blanco, a second-degree blackbelt in karate, established graphic designer as well as King Changó singer/ songwriter, talks about his band and their quest for world domination. A heavy latin flavor and a name which roughly translates to "Big voodoo" in Spanish, it's no mystery their ska, salsa, cumbia, & dancehall reggae rockers have made them reigning champions in the latin ska sphere. Blanco's stage antics and flexible voice make for an interesting show, in addition to being backed by a very talented band. I spoke with Andrew & Co. last February 27th after the show in Ithaca was nearly cancelled due to van trouble. Here's the inside scoop on this NYC-based latin band.

ANDREW: Yeaaa John, this is Blanquito Man on da' microphone.
How are ya?, how's the tour been so far?
The reaction of the public and being in the clubs has been really great but the traveling has been a whole disaster. We've got a used van and it has left us out in the middle of the woods everywhere. It's been a nightmare for us to get here, but we're here. This is our first show of the tour and we're ready to rock. We're going to hit, three more gigs from here. We're going to New York for a week, then we're going on the road until March and April all over the US. Then we're stopping in New Orleans in March. We're going to Colombia for a week; we're going to Venezuela, because the record just came out down there; South America. We'll be two weeks out, then we'll go back to New Orleans, Tour the East Coast, go back to Texas, down to Miami and then come back to NYC.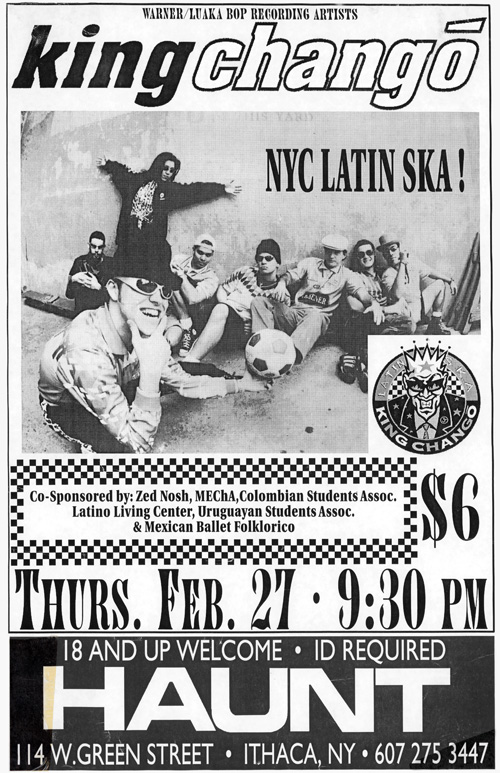 You'd better make sure you have a good van for that.
Definitely. Yes so we're working on it. We had to rent a different van for this weekend. We left the broken one in Philadelphia. When we finish upstate here on Sunday, we have to, how you call it?, go back to Philly and pick up our own van and go back to New York.

Can you give me a history, when you started? Where? Who?
The band started 3 years ago in NYC after the idea of a few friends getting together to do what we call a Latin ska band. At the beginning it was very complicated to get the Latin flavors with just four people but, even so, we got hooked up for a compilation on Moon Records [Latin Ska Volume 1 - MR054 - 1995]. At the time, I had worked for Moon, doing the CD covers. I did the Toasters logo for Dub 56, the first Skarmageddon compilation, Ska Punks, No Loozas tour logo...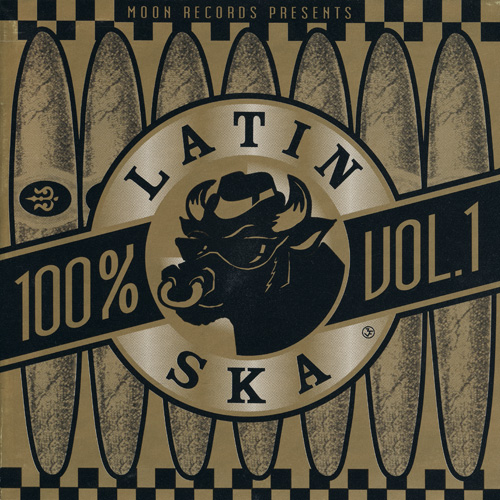 Arsenals...
N.Y. Citizens, N.Y. Ska Jazz Ensemble... So at that time, the Latin Ska compilation came out after Buck was inspired by our band and Moon put out the compilation with bands from Spain, Argentina, Puerto Rico and us representing NY and also I sing a tune with the Toasters (Toasters con Blanquito Man) doing "Don't Blame Me" an original old Toasters tune. It wasn't our recording, but the intention was there. Then after about 9 months, the other 4 musicians came along and then the whole 8 piece King Changó idea was already jamming.

How's the CD doing so far?
Our CD came out in the US in August, but the cool thing is we got signed with Luaka Bop which is David Byrne's label (the ex-singer from The Talking Heads) and it's distributed on Warner Brothers, so we got the whole Mafia, the heavy duty Mafia from Warner Brothers supporting us and the record will be released in a worldwide fashion. This means the record has already been released in Portugal, in Spain. Spain has invited us to go and tour after April and May. South America, Mexico... We went to Mexico last November for 2 weeks and a half, we went to Puerto Rico last December... The thing is like going up and down because the concept of the band is multi-cultural, bilingual, Latin thing. It has been happening in the Latino community as rock; as a Spanish band.

I was wondering why I haven't seen much promotion on the part of Warner toward this record. Maybe wondering why it wasn't released as feverishly as some other of their albums?
Sure. The thing is, I believe Warner is checking us out as a skinny pig, you know what I mean? We're a bilingual project. It's always a dream come true for our labels to target different markets. [But the thing is] King Changó doesn't do it for target markets, we do it 'cuz we're from South America and we live in the United States, and we do it because that's the way we talk on the streets, ya know what I mean? We have songs like French Lady, it's in Spanglish. You have to be a Spanish-American speaker to understand. We do it just because we want it. Warner Brothers is going to react more after a tour. You don't have a name once you start touring, you have to see the power of the audience and people. But the good thing is that more and more the record has been selling, so Warner Brothers is saying "Hm, something is going on in here." So of course its going to go little by little. Actually right now, like a month and a half ago, we got the video for Melting Pot which is a song like cha-cha-cha with a disco. It's not by any means the song which represents King Changó, because everything we do we put ska in it. It's the only tune which has no ska, but Warner Brothers picked it for the single. But still, it's cool because other countries are picking out different singles which means that we're going to get different videos to come. The next video for Don't Drop Your Pants is going to be a video about The Green Hornet... So I'll dress up as the Green Hornet looking for pimps and child molesters and kick the hell out of them with a Vespa. Motorcycles, you know? In a mod session.
Lets go to a diner... The interview now moves to 357 Elmira Rd, Manos Diner Route 13 in Ithaca, over coffee and cheeseburgers, well past 2am.
What's your take on ska in the 1990s?
Well, I think ska in the nineties is really chocky, chocky. Ha. Ha. No, I guess it depends on the perspective. The perspective of the bands, how they take it. To me, ska doesn't have a time. When new waves come of ska, it becomes a part of another ingredient to blend it on in to the mix. But I believe that depends on whoever plays the ska... it doesn't matter if it's the 60s, 80s, or 90s into the year 2000. It's the flavor. If you got the flavor, if you have the root with you, it doesn't matter if it sounds new or old, you should keep it.

Do you find your audiences outside of America, especially Spanish speaking countries and areas, more receptive to a Latin style?
No, I think both groups of our fans, either in the United States or the Latino communities in Latin countries show pretty much the same interest in our music. Of course, in the sense of doing big shows in South America or Europe, its easier 'cause you know we come from NYC and we're this big band who has a record with Warner Brothers and we do this show with 12,000 people, but not that we draw 12,000 people, we're usually opening for big well-known bands. It's easier for us to get exposure. Here you have to work harder in the little clubs to create a fan base, which we don't mind, I mean, its part of the job. That's what we're trying to do.
MIKEY "DREAD" WAGNER: As far as Latinos being receptive though, its funny because the most hostile gig we've ever played was at an all Mexican church on Staten Island. All they wanted to hear was techno cumbia. So we got on stage and got cursed at, spit on, and mocked.
ANDREW: That was the biggest money crowd we've ever had as well.

What is the band's future plan? More touring?
Right now we've just finished a new track for a compilation in March entitled Red Hot and Latin, the Red Hot organization is a group against AIDS, and they have done many, many compilations. Red Hot and Blue, Country, Cool, Dance. Now, finally it is about time to get the Latino community involved. There 's bands from Argentina doing reggae, ska, Skatalites and Fishbone, David Byrne doing something with Café Tacvba from Mexico, King Changó doing a tune with Geggy Tah - a band from L.A. also on our label and its very fun and very good. Also we just finished a song for asthmatic children at Mount Sinai Hospital in uptown, Manhattan. They're putting a video together to send to all the hospitals all over the US, as like an introduction to and about asthma, kid's first experiences, what to expect and so it'll be distributed to. So we did the theme song to that entitled (deep Jamaican accent) Soopa Asthma Kitts. So we brought 3 kids on a Saturday to film this video, they did some vocals, its totally crazy and good like a dance hall ska, came out really nice and we're proud of it. That should be on video soon and also, we want to push the one for Don't Drop Your Pants in the Green Hornet fashion. And we're touring... we're looking to go to Europe. We got an invitation to Portugal, Spain is coming up. Then in the summer we'll do Madrid, London, Germany, Switzerland and Denmark for a big festival, like 30,000 people.
MIGUEL: Five zillion people.
ANDREW: In NYC we have our baritone sax player, Sandra and we're still looking to get a trumpet player. Sledge from the Toasters plays on the record, but we're still in need of a full time fat horn. But primarily in NYC, because its so expensive to take so many people on the road, we'll see how far it goes. We'll make the band go farther.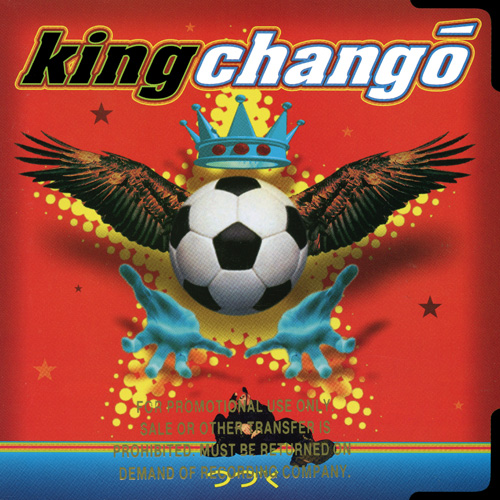 You're a graphic designer as well.
Where did you learn your skills?
ANDREW: [In a feminine voice/lisp] Yes, I'm a designer. I do a lot of textures in my body. Ahem. Well I started working in New York City years ago as an assistant to a designer, just doing packaging. Then we ended up doing logos for sports teams, such as the Florida Panthers (a hockey team from Miami). I did the logo. I did the Toronto Raptors (NBA), I did the Detroit Tigers logo (AL), Oakland Athletics, St. John's University, Villa Nova Wildcats. Also Fernando, our percussionist used to work in the same company, so we did a lot [of shit] together for sports teams, until they got sick of it and then we got sick of it and they fired our asses after touring Puerto Rico and taking so many days off for the band. We do all the graphic design.

Yes, the use of color on CD is quite dynamic. What advice would you give someone like me who is considering a career in the graphic design field?
Well, the best thing is not to fall into the trend of what everybody's doing. In the graphic design industry, it's a lot of bullshit, especially in the United States. In Europe, it's more open, more creative, more experimental. Here in America, everybody follows a trend, what is a fashion. People should create. So I say, go ahead, do what you have to do, but always do something different, that way you're creating a trend, you're not following. And never stop doing graffiti...

Van trouble aside, how did you like performing in Ithaca, NY?
ANDREW: It was awesome.
FERNANDO VELEZ: One of the best shows, most fun shows we've ever had.
ANDREW: And also what was really great was we were playing with Chuck Treece who used to be the drummer for Bad Brains. We'd play songs, we'd never practiced with the guy. We just put a walkman on him for like an hour and told him to play and he was phenomenal.
FERNANDO: And in songs we'd change, he'd go from ska, to salsa, to reggae, you know? He comes into ska again. He was all over the place, excellent.

So will he be with you for a while?
ANDREW: Until tomorrow, we'll get our regular drummer Luis Ruiz on Saturday. He took a few days off. He's ill.
MIKE WAGNER: Cameo appearance.
ANDREW: So, special appearance by Chuck, but it's all good.

Does King Changó get a lot of interviews?
Once and a while, all of the sudden for a week like Martin and I and my brother, since we have the work, we're unemployed now, all of the sudden then we're the press department. We go to a record label, Luaka Bop, 12th street, Manhattan. Radio interviews to Colombia, newspapers in Spain. The worst was our manager gave us a list of 100 US radio stations that needed legal IDs. We did jams for them, each one needed four or so.
MARTIN CUNNINGHAM: One for New Year's, one for Christmas, and a normal one.
ANDREW: All of the sudden it was like 2 fucking whole days recording on DATS, 80 little songs, we were burned out. When we went to Mexico, Warner Brothers was like an army. Some days we had three shows, press, peoples, promotion. We love it.

Do they always ask the same questions?
No, it's interesting, people have to know... what is the band about, etc. But some people hit you with political stuff and then you have to again be politically correct, or you'll get your ass in trouble by saying a weird comment. By the way, talking about weird shit, there was a really weird thing – we played Bill Clinton's Inaugural Ball in Washington DC. We had a small tour, we played the Trocadero in Philly with Ruder Than You, and we had other shows afterwards, we needed to fill a gap with an extra gig in Washington. All of the sudden, our manager called some people, and this filler gig in DC, turned out to be the best. We played with Chuck Berry, The Platters, Bo Diddley, in this huge ballroom, 2 ballrooms in the Hopney Hotel in DC. That shit was crazy. It was a 2 hour party, everybody was drunk, old ladies and stuff.
MIKE WAGNER: The 2 Tone fans came our from the crowd.
ANDREW: Old ladies, all these maniacs came up skanking and stuff. Madness! it was nice.
MIGUEL: It was an ocean of tuxedos, and suddenly the people were taking off their shoes and dancing.
ANDREW: We had the Conga line goin' on.

Do you have a favorite 2 Tone band?
MARTIN: English Beat.
MIKE WAGNER: More than just the English Beat.
ANDREW: I like many bands. The Specials, to me, are the rootsiest of all the 2 Tone groups.
MIKE WAGNER: My favorite band is The House of Rhythm
ANDREW: ...And Mr. Rico on trombone!

I think that's about it. Any other words in closing?
ANDREW: to all the people out there, check out our video, buy our record 'cuz we're really proud of it. It's good music.
FERNANDO: Support your local bands.
ANDREW: Always support locals, 'cuz these are the ones trying together. Its a tough time.
FERNANDO: Without the help of the public, those bands are not going to get anywhere.
ANDREW: Big up to all those sucker bands around, keep playing.
All right, thanks.

****************************************************
King Changó is:
Andrew "Blanquito Man" Blanco - vocals, hats, sunglasses, black belt
Mike Wagner - Trombone, guitars
Fernando Velez - percussion
Martin Adrien Cunningham - tenor saxophone
Miguel Oldenburg - guitars
Glenda Lee - bass
Luis E. Blanco - keyboards, accordion, turntables
Luis Ruiz - Drums
***************************************************
Currently touring all parts of the western hemisphere and globe, promoting their self-titled debut album on Luaka Bop a subsidary of Warner Brothers Records. Check it out! Go Latino!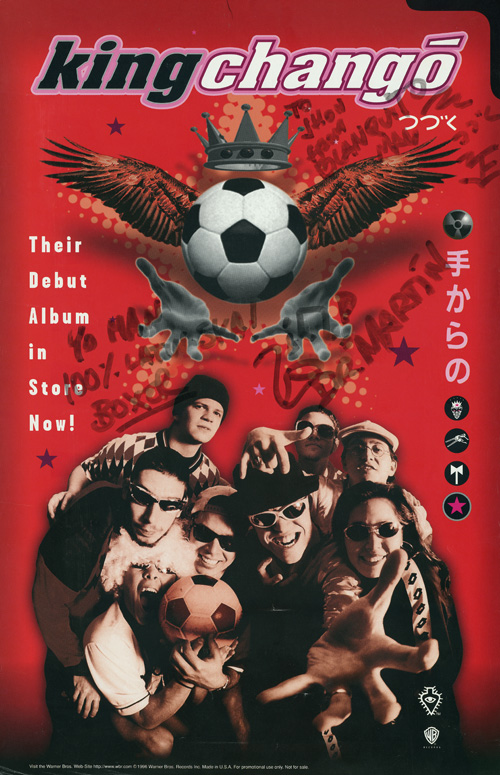 Special thanks Josh A. Norek from Zed Nosh #1 'zine Cornell University for organizing the show
POSSIBLE PULL QUOTES
I think both groups of our fans, either in the US or the Latino communities show pretty much the same interest in our music.

To me, ska doesn't have a time. When new waves come of ska, it becomes a part of another ingredient to blend it on the mix.

CONTINUED ON NEXT PAGE...
KING CHANGO CONTINUED......


Like all other interview copy in Hoi Polloi! Skazine #4, we watermarked the band logo behind the text itself; it was hard to read at times.

This particular layout was done using Aldus Pagemaker because the one Mac lab on campus with all the QuarkXPress® was locked after hours.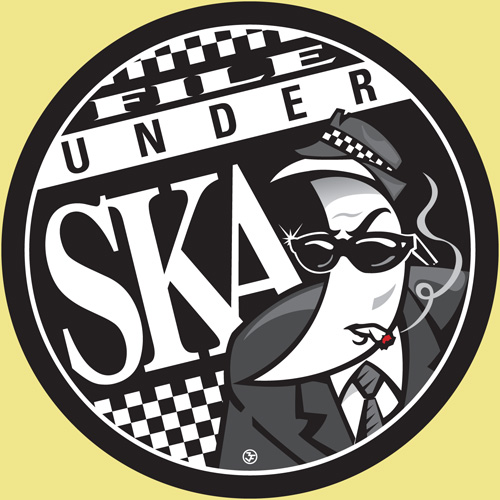 King Changó was a Latin ska band from New York City, New York with roots in Venezuela. Its name comes from Changó, the Afro-Cuban god of war.

José Andrés Blanco, "Blanquito Man", died on November 16, 2017 due to complications from cancer. He was 42.