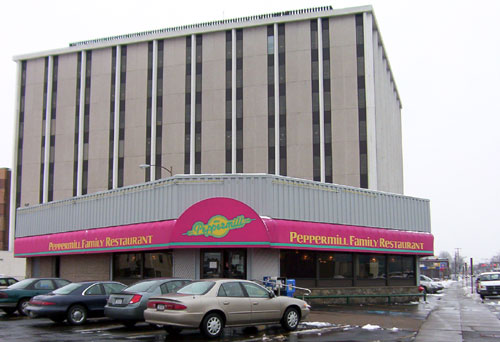 NY 18 intersects NY Rte 104, 1/9/05
1/9/96 was the only known all-banjo show, with Ler and Les on you know what. Unlike the Bob Cock & Yellow Socks shows, where song versions differ radically from the electric versions, the songs performed at this show are played and arranged like the originals, except on banjo. The whole set is a gas, with highlights including a version of Hello Skinny with one of the Residents on vocals, an amazing Tommy jam featuring teases of Thank You, Dueling Banjos, Sweet Home Alabama (sung as Sweet Home El Sobrante), and Another One Bites the Dust. This show was part of a party celebrating the release of the CD-ROM version of Punchbowl and the Residents' Bad Day On the Midway CD-ROM game.
Thanks to http://www.toasterland.com/liveinfo/primus2.html#historic
& http://www.ram.org/music/primus/reviews/primus_101697.html
Rudie in court: This day in ska 1/9/81, the Specials' Jerry Dammers & Terry Hall were fined for inciting a riot the previous fall.
1/9/88 - Echoes Magazine has Judy Mowatt, Clancy Eccles, Laurel Aitken
Red Hot Moon: This day in ska 1/9/03, Rancid with Slackers' Victor Ruggerio perform on NBC TV's Late Night With Conan O'Brien (rerun of previous fall)